Real Estate in the Media
Why Aren't Candidates Talking More About Housing?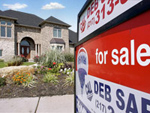 There has been plenty of political talk about the economy this week, but precious few words about one of the biggest drags on the economy: housing.
Despite recent signs that the housing market is improving, it is far from healthy.
Home prices are still down 31 percent from their 2006 peak according to the latest S&P/Case-Shiller home price report, and nearly 12 percent of all mortgages are either delinquent or in the foreclosure process, according to the Mortgage Bankers Association.
...