The Starrys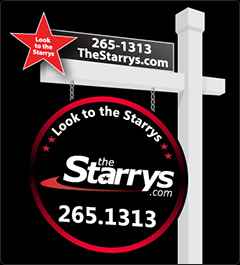 Ranked #1 in sales out of 550+ Green Bay Agents in 2015!
Ranked #2 in sales out of 575+ Green Bay Agents in 2014!
There are many qualities and skills that make an excellent real estate professional - honesty, integrity, in-depth market and community knowledge, ... [ Read More ]
Clients Are Saying...
"
The Starry Team helped us sell our old home and buy our new home. Sold our home in 5 days!! We were very happy with how everything worked out and would highly recommend them. Thank You Rich Becki and MJ
"
–Peter & Carrie Baeten
Community Resources
Looking for information about Green Bay or one of its surrounding communities? We have compiled links to history, city information, schools, restaurants, recreation, news, and more.
[ View Community Resources ]
The Starry Story
Learn more about Starry Realty and why we prefer to do business the old-fashioned way! Also check out the office restoration and transformation we gave our historic 1888 office building.
[ The Starry Story ] [ Office Transformation ]
Look to the Starrys
Our eNewsletter is an easy way to keep up with The Starrys. Newsletters may include interesting real estate news, hot new listings, upcoming community events or an update on The Starrys.
[ View Past Issues ] [ Subscribe ]
Starry Suggestions
We have put together recommendations for businesses in the area that we personally feel provide excellent products and services.
[ View All Starry Suggestions ]