Best Interior Renovation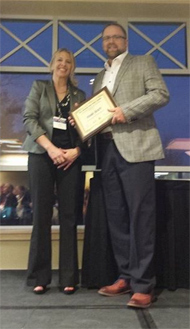 Rich Starry purchased the historic Steckart and Falk Building in April 2014, the first owner transition in over 20 years. Extensive restoration work over a quickly paced six month timeframe converted the 3,500 SF ground floor into a modern workspace and community gathering space with the historic character shining through. Rich's meticulous restoration project included: refinished and resealed flooring, replaced electrical systems, replaced over 60% of plumbing, removed three different sets of drop ceilings to expose original 14′ ceilings, patched ceiling with original pieces from attic to maintain original look, removed sheetrock and exposed brick on Northern half of building, gutted kitchen and replaced with new utilities to house new tenant, as well as replacing the roof and HVAC system.
Since Rich's purchase of the property one year ago, the property value is estimated to have nearly doubled. Improvements on the upper floor rentals are currently underway, which will have an even greater impact.
Article from "De Pere Shines at Wisconsin Main Street Awards" by Definitely De Pere
To view pictures of our renovation, please visit the Office Transformation page of our site.