The Value of a Face-to-Face Visit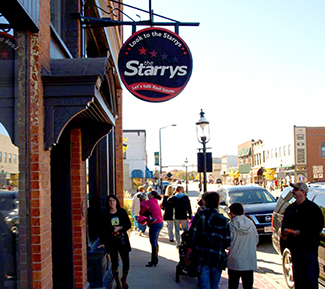 Rich Starry and the team at Starry Realty LLC prefer to do business the old-fashioned way.
The old-fashioned way doesn't mean avoiding the gadget-filled world we live in today. In fact, The Starrys – a realtor team consisting of Rich, his mother Becki and their office manager Mary Jo – embrace this technology much more than most as it has enabled them and their clients to be much more efficient and effective. But while the technology has its place, The Starrys still see the significance of a one-on-one discussion, community involvement and a handshake.
They feel relationships are the foundation and firmly believe we shouldn't lose sight of the incredible value these personal interactions bring.
With that in mind, Rich had an idea for doing things a little differently in his profession and his home community. He likes to call it his mission to "Bring Real Estate Back to Main Street," or in this case, Broadway.
Opening a Community Gathering Space
Rich envisioned finding a building in downtown De Pere that he could operate the business from and open up to the community. Remembering back to a time when downtowns served as a one-stop shopping and meeting spot, he saw this space as a gathering place of sorts and imagined it being used for everything from group meetings and training workshops to benefit concerts and other charity events.
His earliest vision included a combination of music, collaboration and conversation ... a destination to come together for sharing, networking, philanthropy and much more.
Thanks to the perfect location presenting itself and a proposition where the timing and all of the rest of the pieces fell right into place, the things Rich once pictured so vividly in his mind are now becoming a reality.
A Historical Downtown Mainstay
Living and raising their families in and around De Pere, Rich, Becki and Mary Jo have always had strong ties to the community. More than 90% of their business comes from referrals from friends in the community.
Rich knew his "Main Street meeting place" had to be situated somewhere that was right in the heart of the downtown community and brought some real meaning to area residents.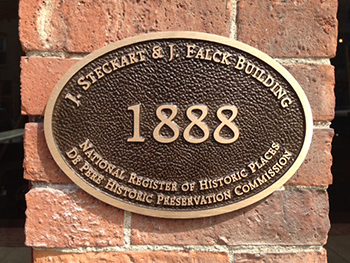 That's when A's Dockside – most recently known as A's Restaurant and Music Café – came into the picture. Listed on the National Register of Historic Places, the former A's was built in 1888 and is one of the most recognized and remarkable commercial structures in downtown De Pere.
The building wasn't for sale at the moment and hadn't changed hands for the last 23 years, but Rich met with the owners and explained his concept for creating a community gathering space much like the building on Broadway has always represented.
It was a win-win situation for everyone involved – especially the community – and soon the deal was done and renovations were under way. The Starry Team was very involved in the decision-making process and worked meticulously to restore and maintain the facilities of the 126-year-old building.
Plans to Do Good with the Community Space
One of The Starry Team's biggest goals is to use the building to do good for the community. Incorporating
the musical element, Rich intends to host a "Starry Nights" music series that will feature different benefit concerts and raise money to go toward local charities.
He also plans to unite the people of De Pere and surrounding areas and encourage new relationships and a greater sense of community by opening up a central meeting space at the building.
His ultimate hope is that giving back through this historic building will strengthen the community ... by helping organizations in need, promoting the area's economic vitality and encouraging some creative partnerships along the way.
About The Starry Team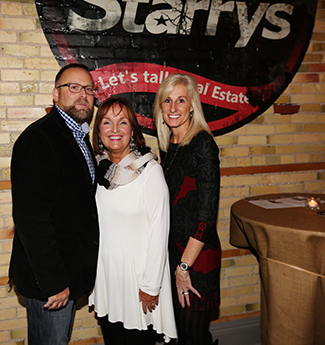 A family business in every sense, Rich, Becki and Mary Jo are most focused on the relationships that develop in real estate – ones that go much deeper than their individual listings and the home-selling or buying process.
Together, they have 70+ years of sales, marketing and customer services experience among the three of them along with an indescribable commitment to every client.
Rich first started in the field when he worked for a company that specialized in staff relocation services.
As he became more familiar with the people and the properties of the area, Rich decided to make the transition to real estate full-time and later partnered with Becki to open Starry Realty LLC. He and his wife, Courtney, have a daughter, Stella.
Becki is a life-long area resident. She has been married to husband, Dick, for 50 years and, in addition to Rich, the couple has two other children and three grandchildren.
An integral part of the team, Mary Jo Danen serves as the office manager at Starry Realty. She is known throughout the industry for her exceptional organization skills, productivity and attention to detail.
Since first forming its own group in March 2014, Starry Realty has experienced tremendous success. Before teaming up, their individual ranks included #3 in sales for 2013 out of nearly 600 agents in the Green Bay metro market and a #3 ranking in 2012 out of 525 agents.
Many ask, "What is the secret to The Starry's success?"
A big part of it is the focus they have on being good listeners and communicators. The team follows a philosophy of putting the client ahead of all else and aiming to provide the most personalized, high-quality service in every single interaction.
A Downtown Destination Where Everyone is Welcome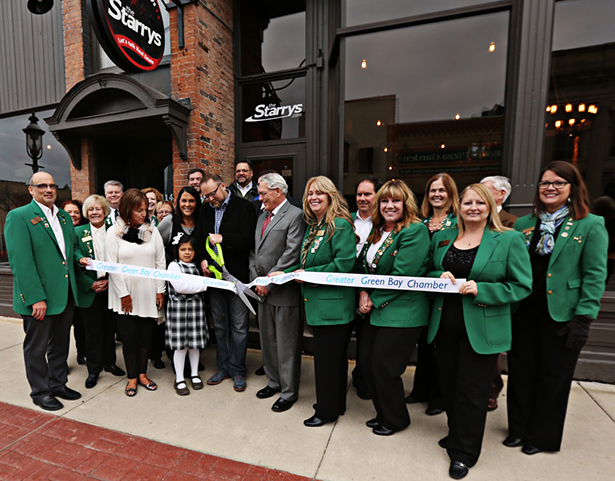 With the ribbon cut at the new Starry Realty location at 112 N. Broadway in De Pere and the doors now open to the public, The Starry Team is excited about the many opportunities this community gathering space will bring to De Pere and beyond, and the possibilities it will provide for collaboration.
The team extends an open invitation and a warm welcome to everyone in the surrounding communities as it carries out its vision-turned-reality of bringing real estate back to Main Street.
The Starrys