Charity Event
Diaper Drive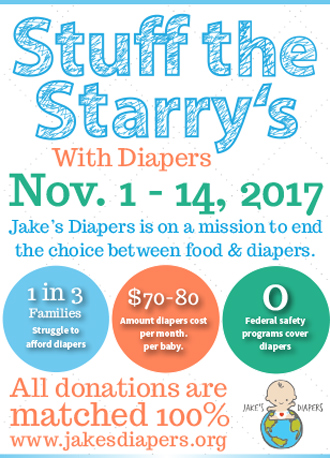 © 2017 Copyright Kari Hinrichs and Red Giraffe Graphics
Diaper Drive
We're hosting a Diaper Drive in support of Jake's Diapers, a 501(c)3 nonprofit organization that provides diapers to babies in extreme poverty, whose caregivers have to choose between food & diapers. Did you know that in Brown County alone there are over 1,500 children under the age of 3, who live in homes at or below federal poverty level? Our participation will help 50 of these families who are unable to provide their children with enough diapers to keep them clean, dry, and healthy.
Monetary Match
We have an amazing opportunity in which all monetary donations made here will be doubled by Johnson & Johnson. Our goal is to raise $5,000 which will purchase over 20,000 diapers! These 20,000 diapers will help 50 babies right here in the Greater Green Bay area. You can also drop off diaper donations at our office. Our efforts in this Diaper Drive will go a long way to ensuring that these babies get a healthier start in life.
Diaper Packing Party
Join us on Wednesday, November 15, from 4 to 7 pm for a Diaper Packing Party at Starry Realty, 112 N Broadway, DePere.